Top 10 Best ASO (App Store Optimization) Tools in 2021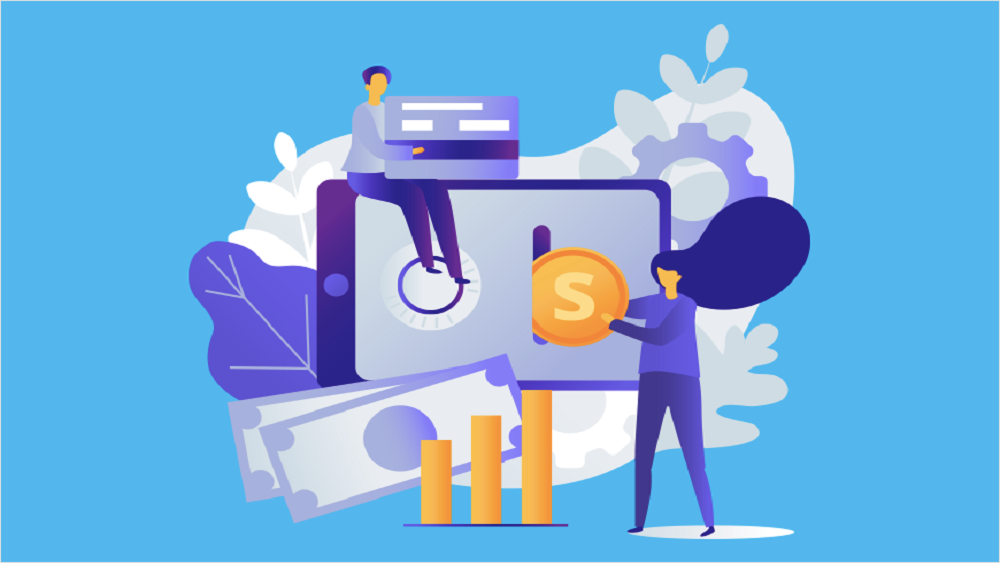 ASO (App Store Optimization) is an effective tool in creating successful mobile applications and mobile games in today's digitalized era. It is a wise decision to use the best ASO tools to upgrade your smartphone features. The demand for ASO Services for Local Businesses is on a constant rise with growing time.
The blog will discuss the usage and importance of the ASO tools and enhance your application visibility and help in easy and quick conversion.
Here, we present a list of the 10 best App Store Optimization tools in the below section. You will know about the review of the best tools prevalent in the market and the features and range of each ASO tool.
Read More: 5 Best ASO Tools to Help You Promote Your App

1. AppFollow
AppFollow supplies the application developers with all kinds of tools needed for organic user acquisition. The ASO tool claims to enhance the weekly impressions 5 times than before. It can also boost the organic install number by 490% and the conversion rate by 11%.
AppFollow enables you to track the most crucial KPIs (Key Performance Indicators) such as conversion rates, download, etc. You will get the conversion reports every month on the basis of various factors. The tool helps you explore which games and applications are in the current trend on Google and Apple Play Store. You can also assess the ASO strategies of your competitors.
AppFollow helps you to identify the keywords most suitable for your apps and track the most used keywords. You can translate the keywords for localization.
Clients: Disney, HBO, Yahoo, Sony, Flo, Autodesk, Comcast, and many more.
Key Features
Track application performance and Key Performance Indicators
Overview of the competitors
Automated Keyword Research
App Alert System
Mail and Slack Alert
Store Performance Index
Top Chart Ranking
Price Plan
Entrepreneurs
Free
Essential ($23/Month)
Startup ($47/Month)
Companies
Growth ($55/Month)
Advanced ($111/Month)
Enterprise Custom
2. Sensor Tower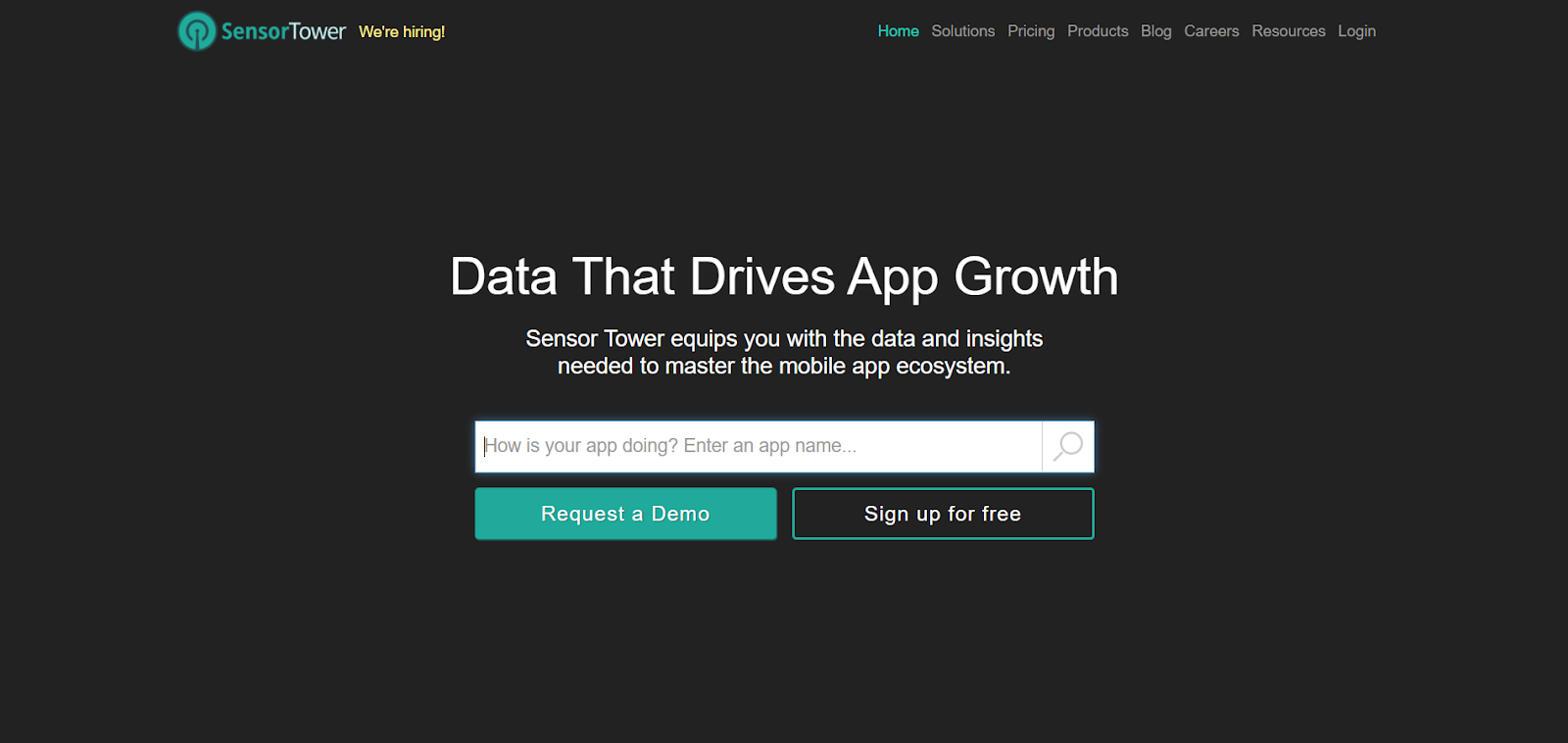 Sensor Tower is one of the most upgraded platforms to offer ASO services. The intelligence platform provides millions of information that will help you make better decisions in App Store Optimization. Sensor Tower helps you to assess your competitors' performance and optimize your keyword strategy. You can recognize the popular applications and publishers regarding revenue, category, location, download, etc.
Keyword Spy will help you to know which keywords your competitors use. You will get the best keyword suggestions. The predictive rank feature allows you to know your rank in the applications based on a particular keyword. You can translate the keywords to localize your business.
Key Features
Top Charts
Keyword Search
Keyword Suggestion
Store Data
Translation Feature
Analysis of the competitors
Application Profiles
Review History
Regular Report
Traffic Score Estimate
Price Plan
Not Available on the public platform
3. App Radar
App Radar is another most beneficial ASO tool. Like a successful ASO tool, App radar includes relevant keywords to draw the attention of high-quality users. App Radar helps you to search for the perfect keywords for your application and game. The tool enables you to see the keywords your app uses compared to the keywords your competitors use.
The tool will show if you outrank your competitors or not. You can use the strategies applied by your competitors. You can also see whether the keywords are featured on Google Play Store or not.
Clients: Arise, Meister, iTranslate, Kolibri, Mixvibes, etc.
Key Features
Keyword Analysis
Wide Database
Keyword Optimization
App store rank tracking
Real-time app store ranking
Price Plan
Free
Starter ($39/Month)
Advanced ($69/Month)
Expert ($129/Month)
4. Apptweak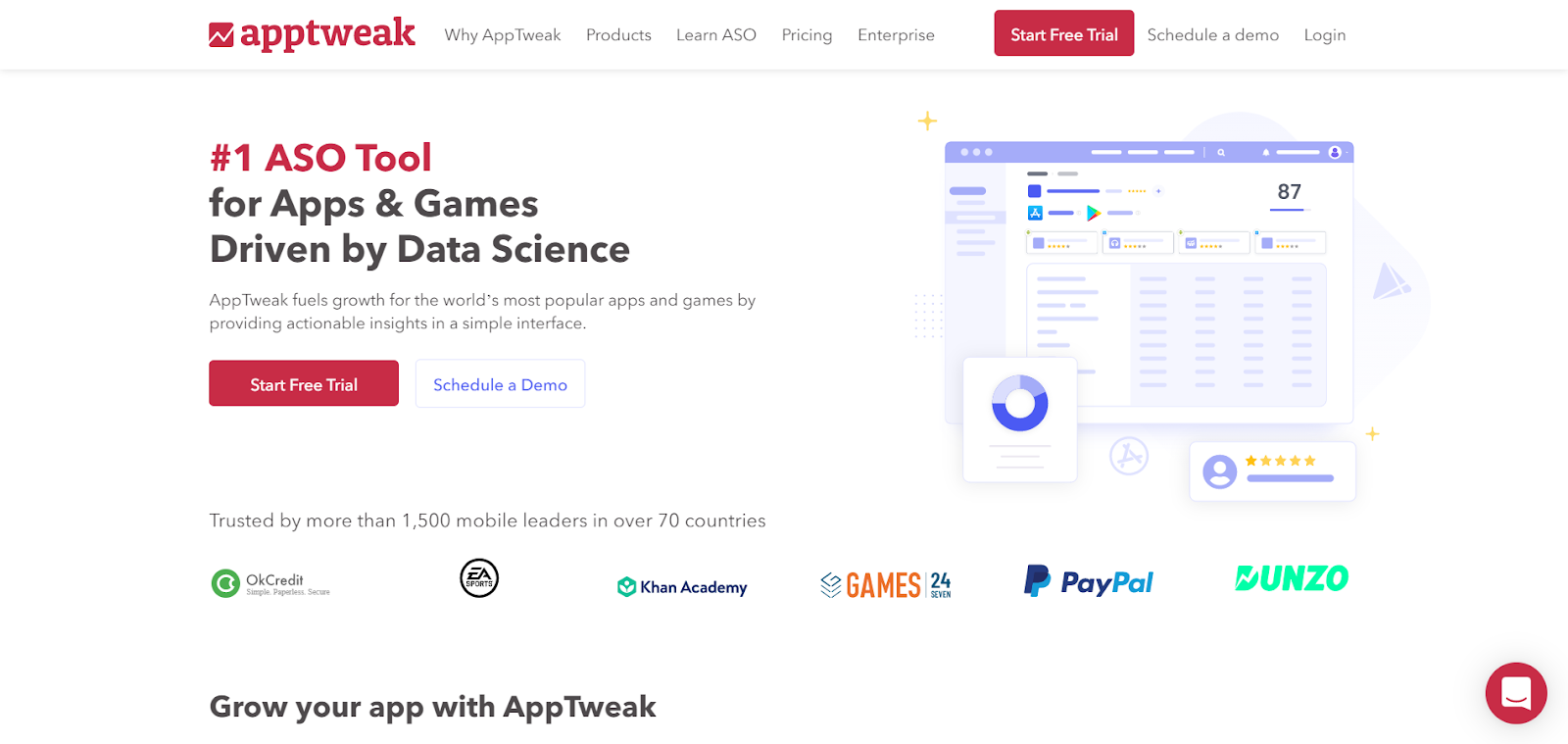 Apptweak is one of the most helpful ASO tools used for applications and games. The tool's keyword research feature enables the developers to find the best-suited keywords for their applications. You must know that a wise keyword strategy is an integral feature of ASO, helping you find the best search results.
You can spy on your competitors to keep an eye on their performance. The tool uses Apple Search Popularity to help you with the search volume per keyword. You can have a look at each keyword's difficulty scores to know more about the best potential of the keywords.
Clients: Amazon, Expedia, Adobe, LinkedIn, Jam City, Electronic Arts, Yelp, Big Fish, etc.
Key Features: 
Keyword Research
Keyword Rank History
Keyword Volume
Keyword Impact Assessment
Application List
Translation Option
Visibility Score
ASO Timeline
Organic Install
ASO update history
Category rank
Revenue Estimate
Price Plan
Starter $69/Month
Guru $299/Month
Power $599/ Month
Split Metrics is a giant ASO tool used to boost organic traffic and lessen the users' cost. The tool enables the developers to realize how users communicate with your app store like you can track how long they do watch your videos. You can also identify whether they have browsed through your images and screenshots. You will get a more transparent idea regarding the users' behaviour. You can make use of the elements from your app store to boost the conversion rate.
You can examine each element of your app store page like app name, icon, keywords, description, videos, screenshots, etc. You can experiment in around 30 different ways.
You may ask for advice or suggestions from the Split Metrics' expert team if you want to know how to optimize your page.
Clients: Wallapop, Lab Cave, Mytona, Fruit Ninja, Yandex, Zinmad, etc.
Key Features
Split Test
Users' behavioural analysis
Test Competitors' Performance
Localization
ASO tips
Pre Launch of Application Test
Price Plan
Not Available on the public platform
6. The Tool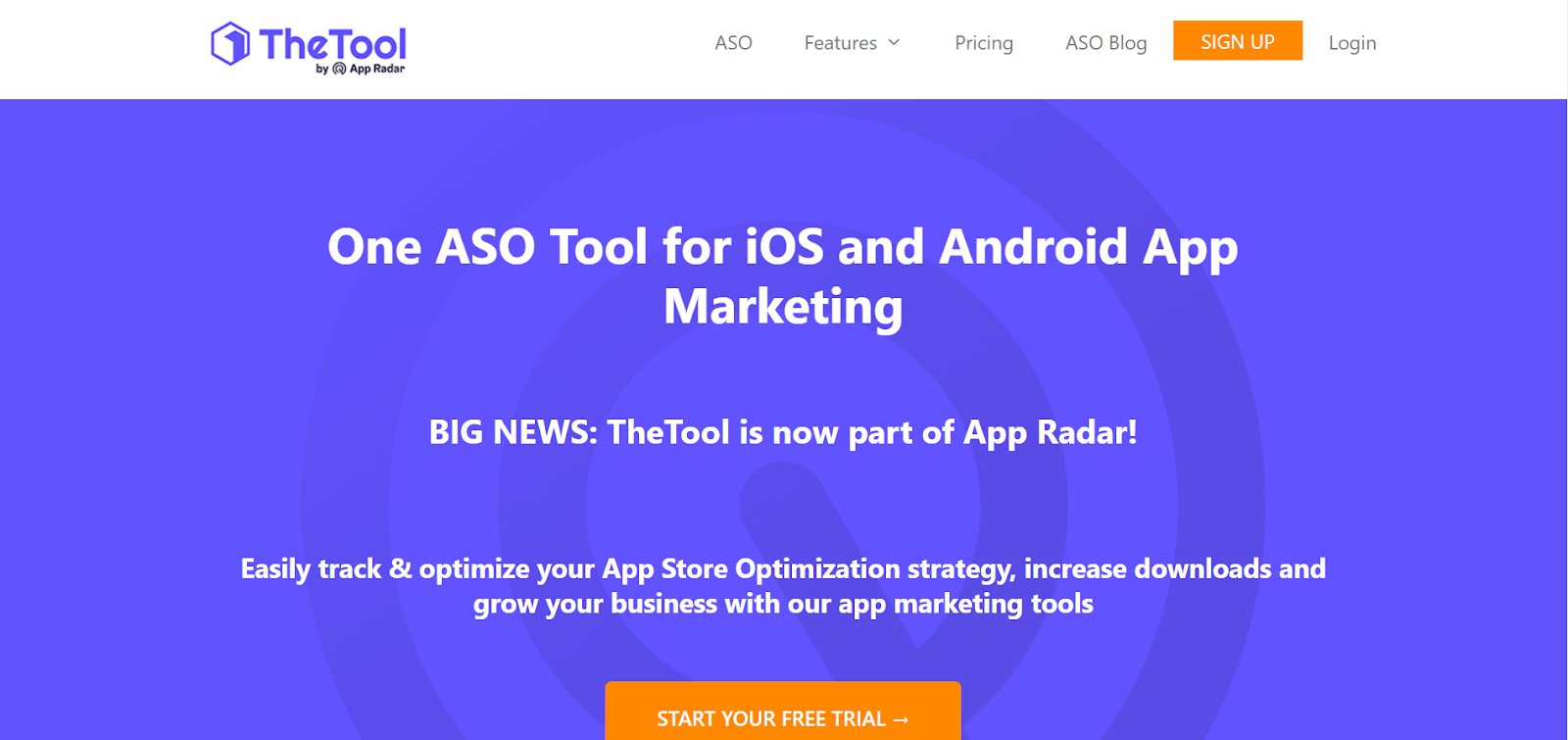 The Tool enables you to track the data regarding ASO services and the organic & non-organic details, keyword rank, app store chart and reviews. The Tool focuses on the performance of the App Store Optimization tools. Keyword research of The Tool is fast and straightforward, enabling you to enhance the visibility of your application. You will know about the keyword suggestions and traffic of each keyword. You might get an insight into the work procedures of your competitors.
Clients: Ten Square Games, Pixonic, Privalia, etc.
Key Features:
Keyword Ranking & Research
Keyword Suggestion
Download Data
ASO score grader
Top Charts
Tracking worldwide
Insight of the Competitors
Price Plan
Start-Up (29 Euro/Month)
Growth (69 Euro/Month)
Ninja (199 Euro/Month)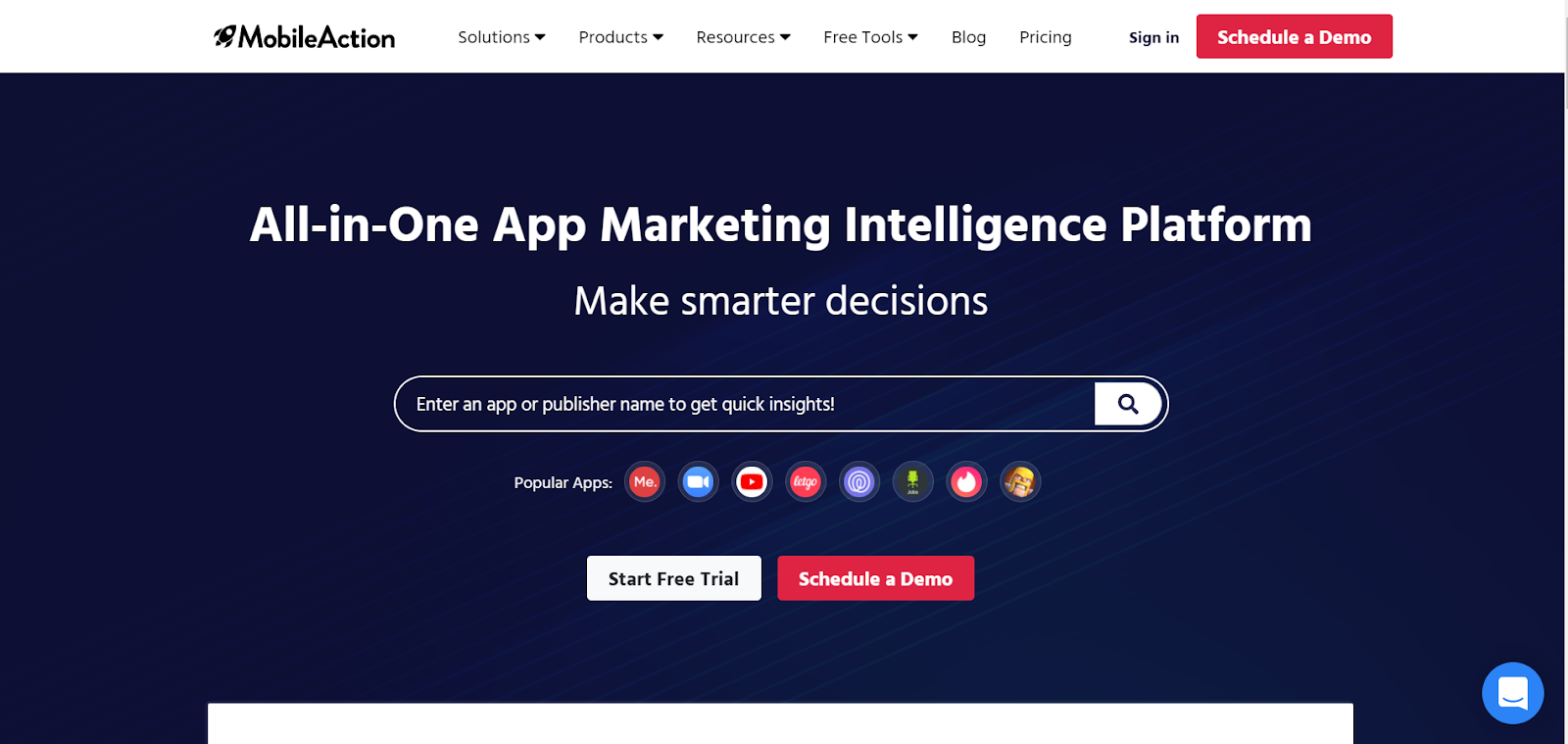 The ASO tools of Mobile Action provide the developers with all necessary features to increase the application visibility and conversion rate. Mobile Action possesses an enriched set of tools that enables you to research the keywords efficiently. The Big Keyword Dataset feature allows you to identify the best-suited keywords. You can collect the keywords from various sources like the keywords used by your competitors, your application description and mostly used keywords worldwide.
The keyword suggestion feature allows you to have an insight into your competitors' actions. You can assess which keyword works best for you with the help of the Keyword Spy tool. You can get inspired by the keywords used by the other top-notch companies.
Key Features
Track and optimize keywords
Keyword Spying & Suggestion
Visibility Report
Localization
Trendy keywords
Price Plan
Free Trial
Startup ($49/Month)
Growth ($299/Month)
Business ($599/Month)
8. Checkaso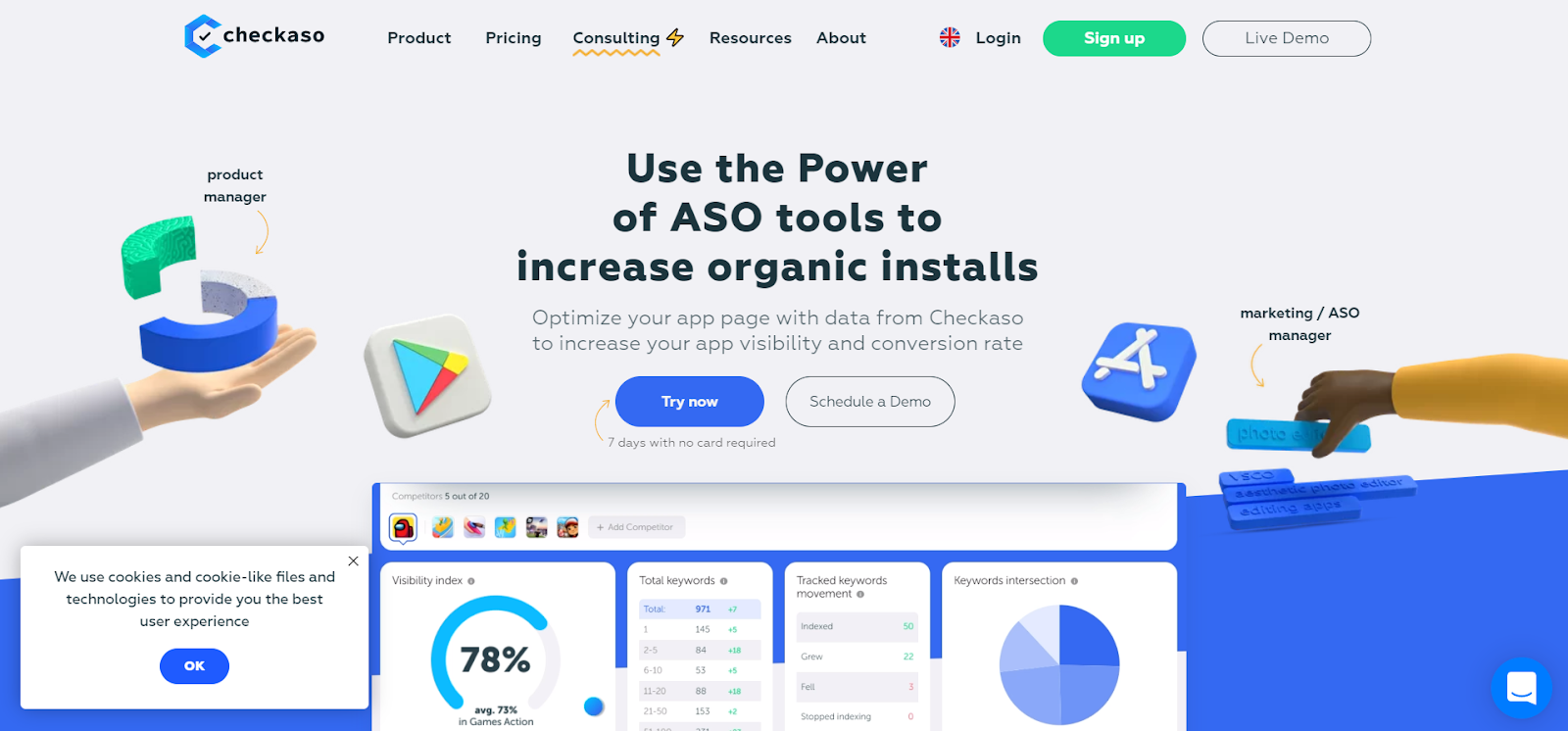 Checkaso is an App Store Optimization tool that helps the developers, agencies and publishers with adequate solutions. The tool is mainly used to develop gaming apps. Checkaso's ASOindex will help you to get insight into the optimization level of your apps and games. You may upgrade your ASO strategy through customization.
The tool helps you with automatic keyword suggestions. You may select the keywords both manually and automatically. Checkaso helps you to keep track of the app ranking and know the keyword analytics.
Key Features
Customized Strategies
Live Search Results
Monitor Application Ranking
ASO index
Automated and Manual Selection of Keywords
Spying on Competitors
Receive Data from App stores
Price Plan
Free
Startup ($14/Month)
Growth ($62/Month)
Agency and Publisher ($126/Month)
9. ASOdesk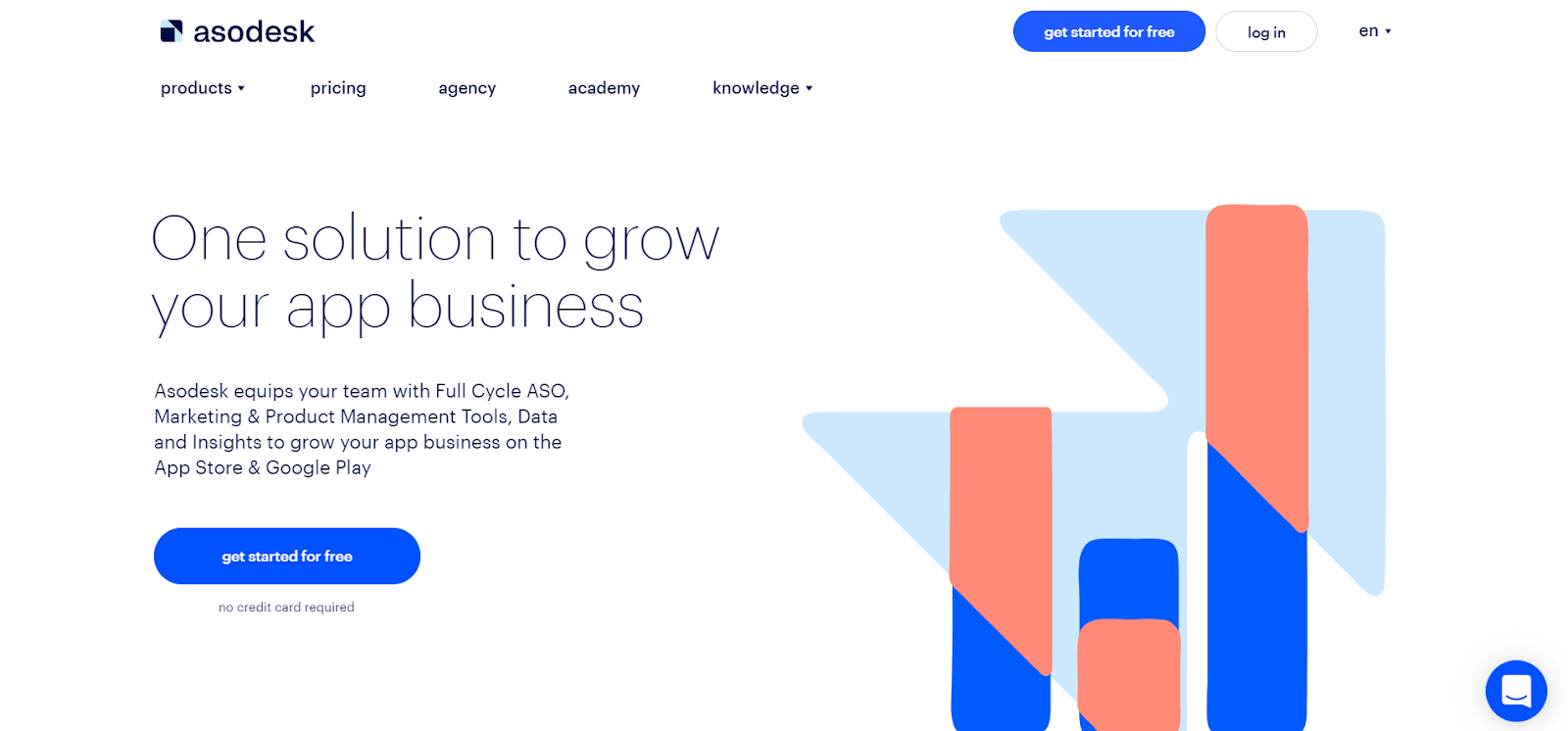 ASOdesk is one of the best tools offering ASO Services India with many helpful features. The tool helps you to gain an insight into your user. You will see the ranks of your competitors and the most used keywords.
The tool also helps you to assess your result concerning your app store optimization strategy.
Clients: Mamba, Split Metrics, Kaspersky, Playkot, Abbyy, etc.
Key Features
Keyword Explorer and Analytics
Keyword Autosuggestions
Organic and ASO Comparative Report
Keyword Chat
Review and Rating
Trending Search Alert
Price Plan
Startups
Small ($25/Month)
Medium ($50/Month)
Large ($84/Month)
Extra Large ($118/Month)
Companies
Small ($127/Month)
Medium ($169/Month)
Large ($250/Month)
Extra Large ($416/Month)
10. SearchMan
SearchMan allows you to track searches for Android and iPhone regularly. You can test the visibility of your and your competitors' apps. You can upgrade your ASO strategy with more keyword suggestions. You can use Keyword Spy to know about the keywords used by your competitors and the platforms worldwide.
Key Features
Top Rankings
Search Tracking
Keyword Spy and Suggestions
Trendy keywords
Trending searches
Custom Report
Custom Notifications
Price Plan
Free Research
ASO Dashboard ($25/App/Month)
Spreadsheet ($99/App/Month)
API ($250/Month)
Enterprise (starts at $1,500)
If you have further query, you can consult the expert team of Digital Infoways; the Best ASO Company India.