Top 7 Sitemap Generator Tools for Faster Crawls
Creating sitemaps is critical for your page to rank in the SERPs as it accelerates the crawling and indexing process of Google. Otherwise, there is hardly any chance for your websites to receive the attention of the Googlebot. But creating a sitemap manually is not an easy task. Instead, it is difficult and error-prone. It requires hard work and assistance from the professionals of a leading Digital Marketing Company India or any other country. But, hopefully, some most effective sitemap generators are available to use for free. Nowadays, even the most experienced web developers also use sitemap generators to create a sitemap that can help websites better indexed by Google.
A Brief Overview of Sitemap:
As the name suggests, a sitemap is a map of a website that provides information about each page of the website in brief along with mentioning how these pages are linked to each other. So, you can understand how a sitemap can help both users and search engines to get an idea about a website. As a website owner, you can create different types of sitemaps for your websites such as HTML sitemaps, XML sitemaps, and Visual sitemaps.
All these types of sitemaps provide helpful information about your pages to both search engines and users. For instance, an HTML sitemap displays all the subpages of a website to help users find content easily on a website, an XML sitemap mainly helps search engines as well as web crawlers to easily find pages and information on a website and a Visual sitemap is a website sketch that shows a clear picture of a website's pages, content, and navigation through visuals.
But, now the question is how to create the sitemap. As already mentioned, creating a sitemap manually involves a lot of hard work, dedication, skill, and a deep understanding of the thing. But, the good news is that you can create a sitemap for your website simply by using a sitemap generator tool. It will allow you to quickly create a sitemap for your website without any errors.
Read More: 5 Best Duplicate Content Checkers Tools 
List of Top 7 Free Sitemap Generator Tools:t
Now, let's explore the top 10 free sitemap generator tools in 2022:
1. Slickplan
It is a popular sitemap generator tool that will help you easily create professional-looking sitemaps for your website. Moreover, the uses of this tool go beyond just creating a sitemap, but it also helps in planning websites, creating a process flowchart, and developing information architecture for different types of projects.
Features:
Easy drag-and-drop creation plus customization with colors and images
Scalable vector graphic for client presentations as the final output
Easy integration with Basecamp
Featured with WordPress plugins resulting in easy sharing and collaboration between multiple users and editors
Highly customizable options
2. Dynomappe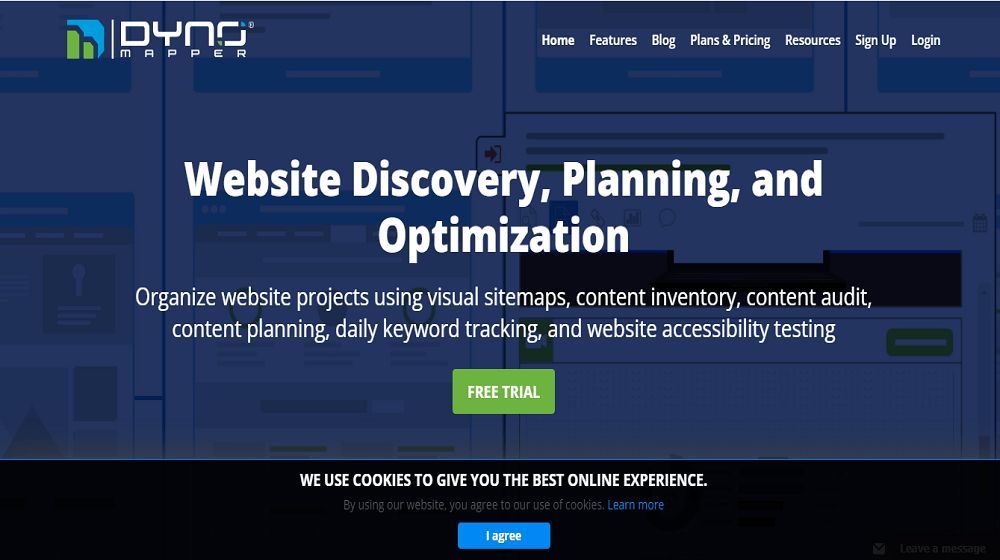 It is an effective visual tool that helps in developing interactive sitemaps that will help you to choose from different sitemap styles. It also offers customized options with a logo and color scheme.
Features
Featured with drag-and-drop options, advanced crawler options, analysis integration, and more
Highly customizable
Comes with sitemap filtering, user permission, URL tagging, and custom branding
Includes custom page type
3. Writemaps
It is a visual tool offering a simple interface and a lot of customization with colors. It will help you to collect page content.
Features
Delivers a PDF or XML sitemap
Highly customizable
Featured with drag and drop builder
4. Mindnode
It is more likely a mind mapping tool that is mainly used to plan a project including a sitemap in a visual way.
Features
Delivers sitemap as an XML file, PDF version, and simple teat outline version
Comes with a drag and drop option
5. PowerMapper:
It is an automatic site mapping tool that works in one click resulting in saving a lot of time and effort.
Features:
Offers single-click creation
Highly customizable
Export as an XML or CSV file
6. XML Sitemaps: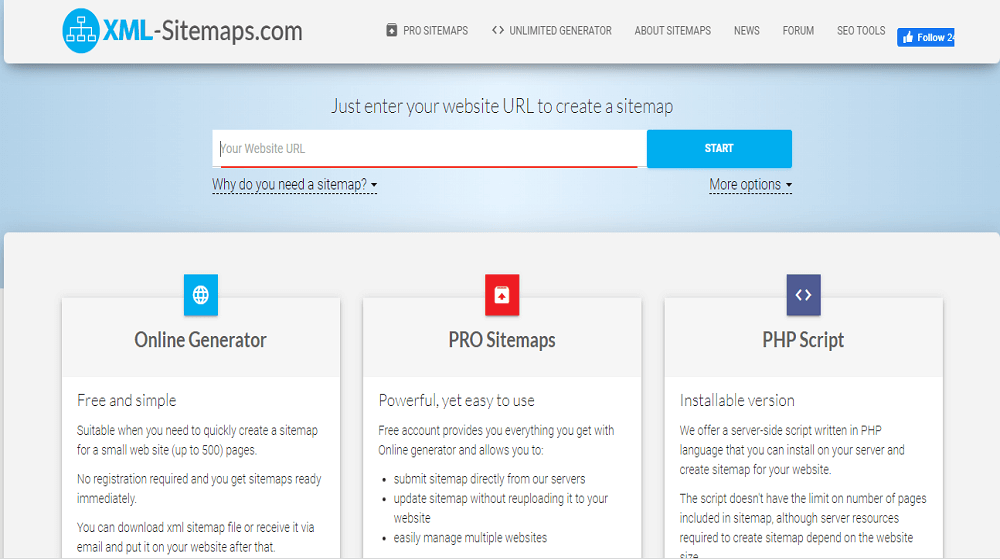 It comes in both free and paid versions. It can also work as an additional tool like an XML sitemap validator, competitor analysis, keyword density calculator, and a SERP page checker
Features:
Image and video sitemaps
Email notifications
Mobile app
Detect broken links
7. GitMind:
It is a useful web-based mind mapping tool that will allow you to create any diagram such as a sitemap.
Features:
Export as SVG, TXT, PDF, or picture files
Customizable
Conclusion:
So, there is no denying the fact that a sitemap generator tool makes the process of creating a sitemap for a website a lot easier. If you consult with experts of a leading Digital Marketing Company in India, they will recommend you to create multiple sitemaps from different sections of your website. It is because this will help you to detect any indexing issues with your website.
Read More: 10 Best Keyword Research Tools: Free & Paid
FAQs:
1. How many sitemaps should a site have?
Experts recommend creating at least two different types of sitemaps for a website.
2. What is the main purpose of a sitemap?
A sitemap provides information about the pages, videos, and files of a website to both the users and the search engines.
3. How long does it take to create a sitemap?
You can create a sitemap instantly, but it takes about two weeks for a sitemap to load.
4. What should be included in a sitemap?
A sitemap plays the role of a guide to help website visitors and search engines find and index your website. So, make sure your sitemap includes pages and posts within the sitemap.
5. Why image sitemap is important?
By adding images to a sitemap, you can help Google discover images that cannot be found in any other way.