How to Advertise On Tik Tok and How Much Do Tik Tok Ads Cost?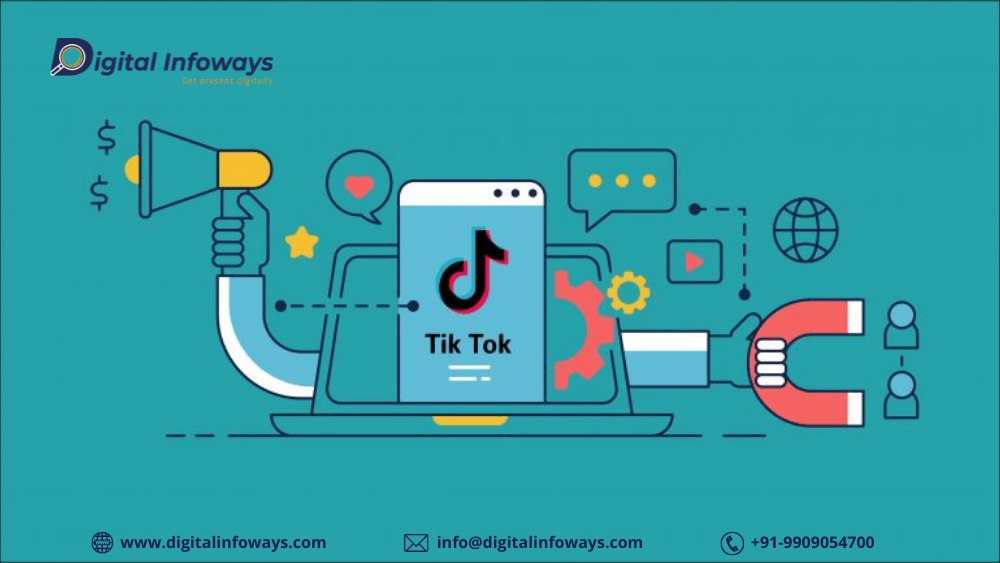 TikTok has emerged very fast as one of the most popular social media platforms, with audience engagement to a fascinating level. People of all ages have been seen active on this social media channel; that is why every social media marketing company in India and across the world has very soon accepted TikTok as an advertising channel for businesses. There are over 1 billion downloads recorded on TikTok across the world.
Who Owns TikTok?
TikTok has been owned and operated and managed by the organization named Byte Dance, which is a China-based multinational technology agency headquartered in Beijing.
Types of Target Audience TikTok can Offer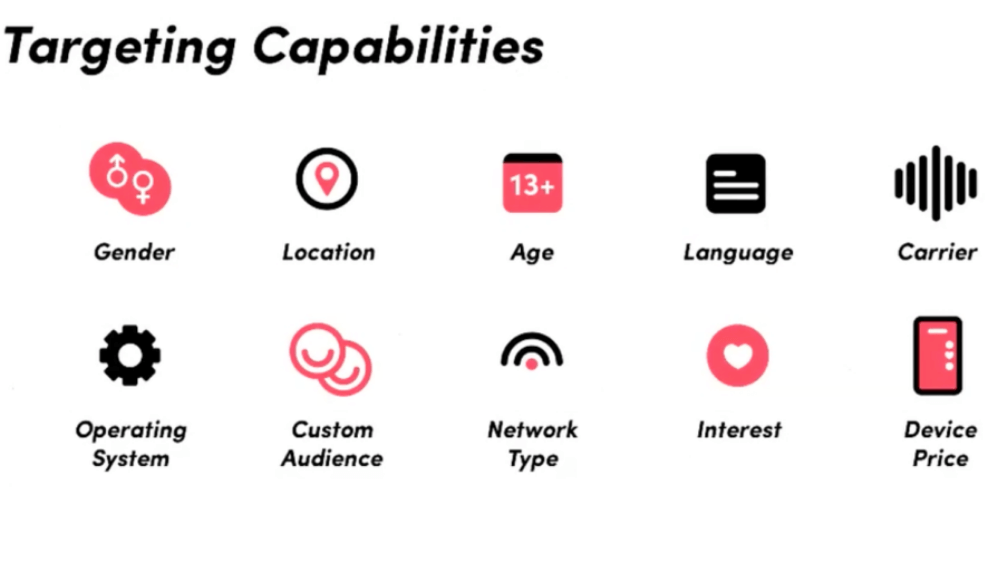 The majority of the population on TikTok is the young generation. The ages of more than half of the TikTok users lie within 30 years. This means the businesses having a younger target market are very well suited for TikTok advertising. It does not mean that TikTok is not used by the aged population, but their ratio in comparison to the young population is comparatively less. This means brands targeting aged people will not prefer TikTok advertising.
Read More: Instagram Advertising Cost in 2022
Is TikTok Advertising Suitable for Your Business?
The first and foremost question that can strike the mind of any business owner is whether a particular business is suitable for TikTok marketing or not? No doubt, the advertising opportunity that TikTok offers is unmatched, and if done wisely, it can reward you with a handful of relevant audiences for your business. But, this does not mean that it goes equally with all business niches. One must do thorough research and analysis whether their target market resembles the audience varieties available on TikTok.
Different Types of TikTok Ads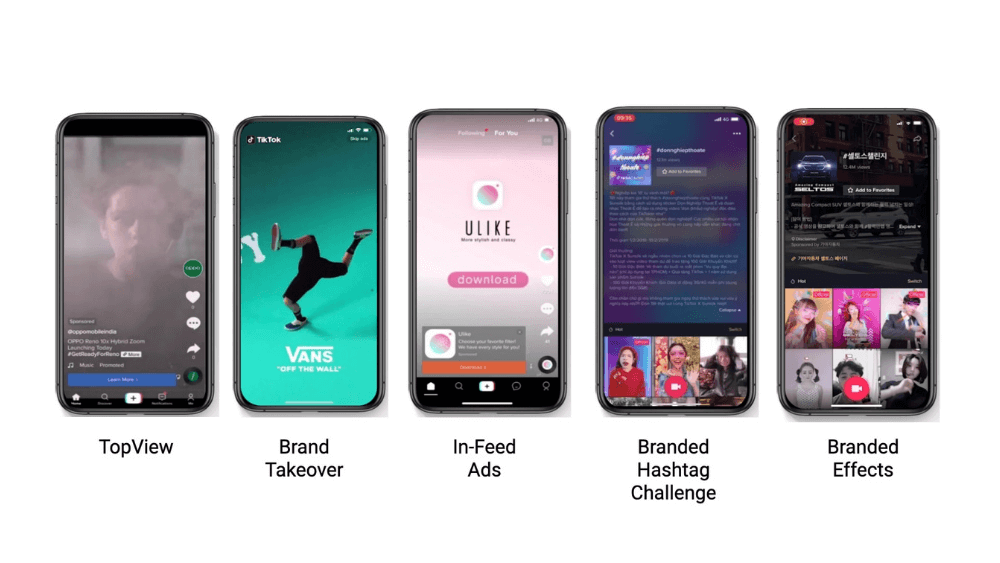 Brand Takeover: this type of ad appears when a user opens the TikTok Ad. The target links may be internal or external. Internal links include other TikTok content, and an external link may be a landing page of a website that we want to promote.
In-Feed Ads: These ads are either shown in the feed as a video queue or below the organic videos on TikTok. These ads can also be linked with external or internal links.
Hashtag Challenges: With this option, you can ask users to participate in a challenge by performing a certain task and then share a video using the specified hashtag. These hashtag campaigns are generally time-bound and last usually for a period of one week.
Setting Up Ads on TikTok
Here is the step-by-step guide to creating ads on TikTok.
Start with Creating TikTok Ad Account
The first step is to create an Ad account with TikTok Business Page. Select your region or country and fill in further desired login details.
Also, provide additional details such as business name, contact details, business description, etc.
Create Your Ad Campaign
The system of advertising on TikTok has a hierarchy that every social media marketing company in India has to follow while creating an ad. First, you need to create A campaign, then an ad group, and finally an ad.
On the Ads Manager dashboard, go to the Tab named 'Campaign' and then click on 'Create'.
Pick the Advertising Objective that you wish to according to your decided social media marketing The three options available here are:
Awareness: This includes reach; select this if your priority is to show your ad to as many people as possible.
Consideration: Traffic, App Installation, and Video views are the three categories available under this option. You can choose as per your requirement.
Conversions: There is only one objective, which is Conversion. It may be optimized for email sign-ups as well as for the number of sales made.
Once you are done with these options, you have completed creating an Ad campaign.
Creating an Ad Group
Choose the type of promotion you want between the two options available, which are App Install and Website. Enter your URL into the text box and specify how you want your users to be engaged with your advertisements.
Choose from Ad Placement Type options. The two available are automatic and manual. Automatic placement will allow TikTok to test different options. You can also select 'manual' and try different ad placement options later on.
Set up multiple adoptions such as brand safety features, user comments, etc.
For small businesses, TikTok has an amazing tool for automated creative optimization. You can decide on whether you want to go with this. With this option, TikTok creates ad variations by utilizing your existing videos, images, and ad copy and tests those ads automatically. Though you can try manual control in case, it doesn't work much for you.
In the next step, you need to define your target audience based on several factors such as location, demographics, interest, in-app behavior, and device type.
Choose the budget options. You can choose either your daily budget or a lifetime budget.
The next step will ask you to set a bidding plan for your campaigns. For instance, you can select to cap your bid in an auction. By doing this, not more than your set cap will be spent for a particular action.
Lastly, click on 'Next', and your Ad group is all set.
Read More: How to rank youtube videos in 2022?
Creating a TikTok Ad
Upload image or video ad creatives on TikTok. Here your still images can also be turned into a video. But before you upload your creatives, ensure you read all the guidelines.
Add the desired ad text and call to action buttons.
Click on 'Submit', and your ad will go under review.
If your Ad creatives and copies are according to TikTok's guidelines, these will get approved soon.
How Much does TikTok Advertising cost?
There cannot be a specific answer to this question as the cost required for TikTok advertising is completely dependent on the type of ad you are using, your daily budget, and the market to which your business is related. Moreover, if you are planning to hire a social media marketing company in India or Ecommerce SEO services for TikTok Advertising, then their fees also add up to the total cost.
TikTok advertising also runs with a bidding system just like any other platform. If a person in the same market is willing to pay a specific amount for a click and the second competitive person is paying a slightly higher amount for the same, the latter one will get the placement. This is how TikTok paid advertising works. But the best part of paid advertising on TikTok is that if you decide on your daily budget, you can set your limits, and your spending will never exceed that amount.
TikTok Advertisement: Final Suggestions
It has been seen that some even small brands are doing great on TikTok and getting the attention of a young audience in an amazing way. They are making this happen by creating a blend of organic TikTok content combined with paid advertising.
If you are planning to invest in TikTok ads for your business, it is best to work wisely in the same manner and first try to engage the audience with creative, organic content. Once your TikTok channel is filled with original and engaging content, some of the audience will definitely connect with you. Then it would be the right time to go with paid advertising. This way, paid to advertise will reward you with exposure to a comparatively larger amount of audience.