Long-Tail Keywords: A Better Way to Connect with Customers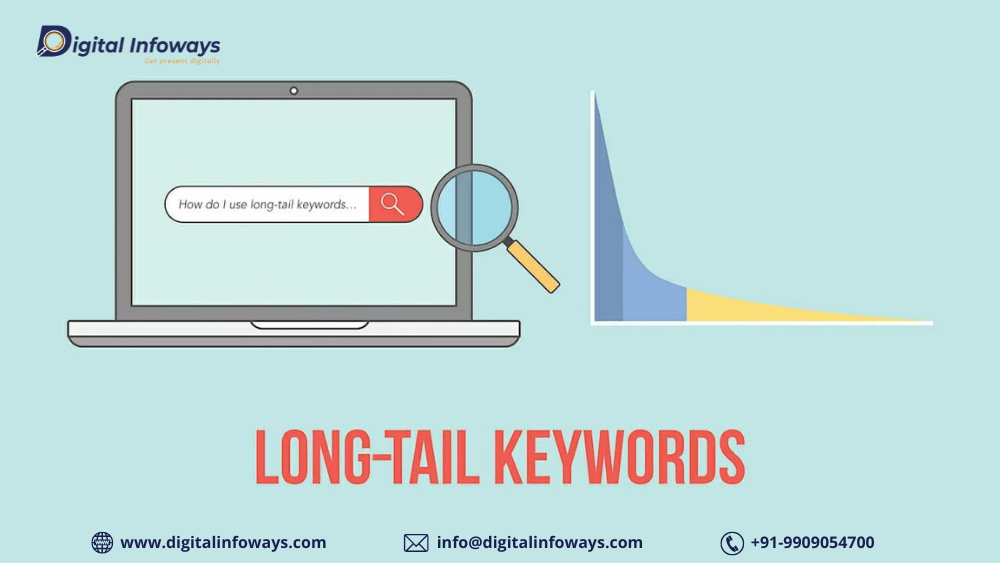 If you are in the digital marketing field or a local SEO company, you will be well aware of keywords and their significance. Going deeper, you may have come across the terminology 'long-tail keywords' with your SEO service provider. So, in this article, we are going to explore everything about long-tail keywords and how they can help our business reach our audience.
What are Long-Tail Keywords?
Before we come to the usage and benefits of long-tail keywords, it is important that we first understand what long-tail keywords are. Because being a business startup, you may not be aware of this terminology. This is the term that a digital marketing company will understand thoroughly.
The Long-tail keywords are the search queries that are more specific to what a visitor or user is likely to type when in search of a particular service or product on the web. Long-tail keywords are typed when a visitor is trying to help search engines understand what he/she is looking for more specifically. Long-tail keywords generally have comparatively lesser search volume than that short-tail keywords; this is because fewer people like to explain queries in longer words when they search for anything on the web.
On seeing search volume on these long-tail keywords, you may feel that they are just useless, but if we use them appropriately, they can be highly valuable and conversion-grabbing things for any business.
How Long Tail Keywords can Help?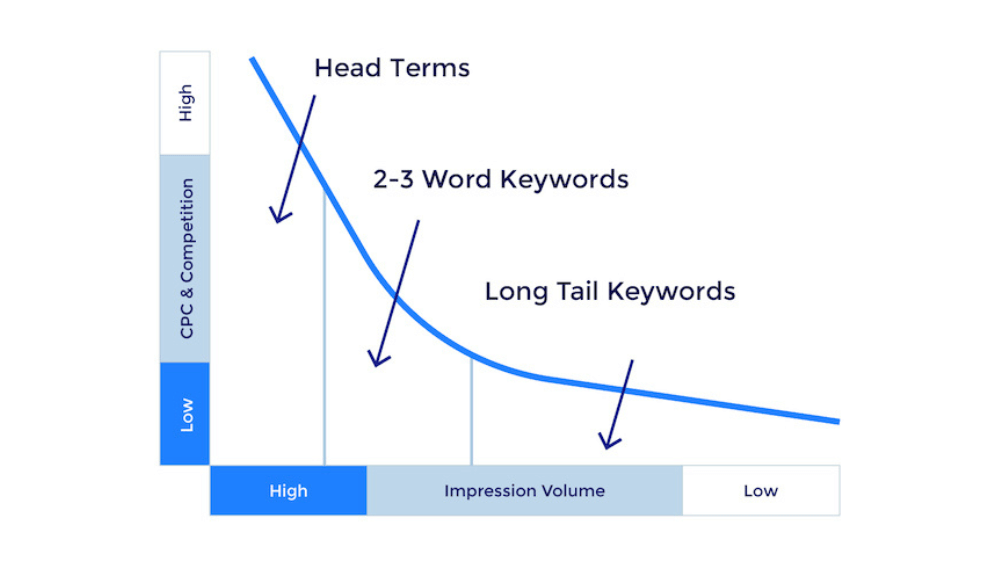 Using long-tail keywords is one of the best strategies that every experienced local SEO company is working on. There are a large number of aspects that are covered by these long keywords and help even smaller businesses to shine on the web. Let's take a look at the significance of these long-tail keywords and know how they can help your online business.
Low Competition on Long-Tail Keywords
Short-tail keywords may have higher search volumes, but the competition for them is also pretty much fierce. Such high competition on short keywords makes it highly difficult for startup businesses or even reputed ones to get good positions in organic search. But due to low competition on long-tail keywords, ranking organically for these can be comparatively very easier. If you are following SEO good practices and have adequate content and on-site optimizations completed on various landing pages, targeting long-tail keywords can reward you with a good reputation in organic search.
More Conversion Rate and ROI
Short-tail keywords even after having high search volumes have a lesser conversion rate and ROI than long-tail keywords. This is because short-tail keywords are not specific about anything that a user is searching and a large number of websites or search results lie under the criteria represented by short-tail keywords. Whereas long-tail keywords being more specific and detailed, provide specific and much more relevant search results which in turn increase the chances of getting more visitors getting converted into site users or customers. This is rarely the case with short-tail keywords.
Read More: What to consider while building a Magento eCommerce site?
Lower Costs due to Low Competition
Due to the low competition on long-tail keywords, long-tail keywords are not only easier in getting websites to rank organically but they also offer great advantages in paid advertising as well in terms of costs. For long-tail keywords, the costs per click are comparatively lower. You can get higher ad placement through Google Adwords campaigns by using more specific and long-tail keywords. For these, you may not have to pay the premium on every click for these keywords. Thus these can offer very economical paid advertising opportunities for newbies also.
How to Search for Long Tail Keywords?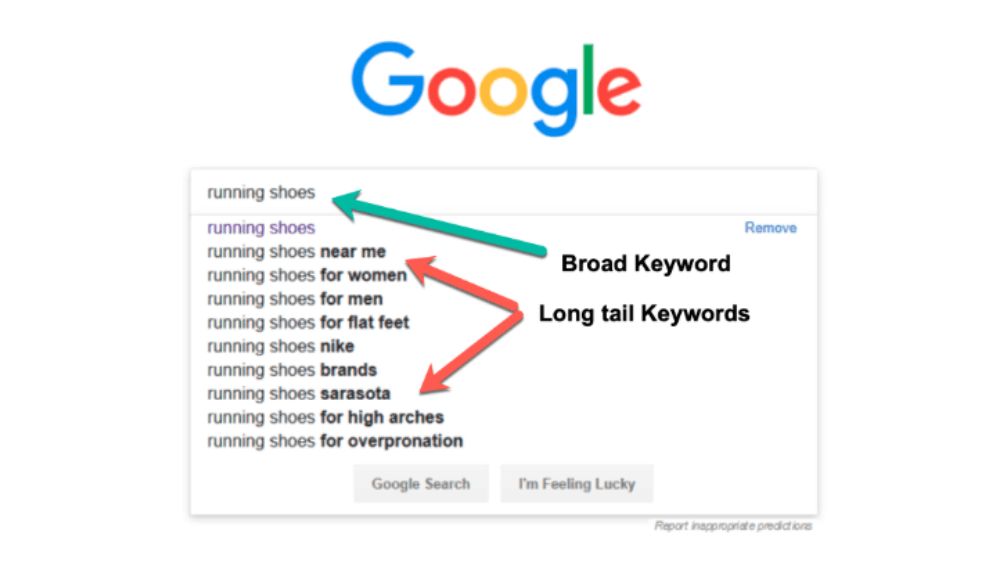 Keyword research is the backbone of your online marketing strategy. Whether you are working on organic search rankings or paid advertising campaigns, good or poor keyword research can make or break your campaigns. Hence it is always important that you research keywords with utmost care and intelligence.
There are a large number of tools using which you can explore long, short, or medium keywords for your campaigns.
Google Adwords Keyword Planner
Keyword Planner is the most reliable keyword research tool which is a product of Google itself. Since most of the paid advertising and organic rankings revolve around Google, keyword planner most of the time seems to be much more reliable and trustworthy.
Here you can explore long-tail keywords for your campaigns. You can provide your terms in the search box and it will return you with related search queries that have at least some search volume for the country or region you selected.
Ahrefs Keyword Explorer
Ahrefs is another major tool that also has keyword exploration within to offer keyword ideas for our search words. Here you just need to type the words and it will come up with a large number of relevant long-tail keyword ideas that you can utilize for your SEO as well as PPC campaigns.
Explore Competitors' Keywords
Competitor analysis is one of the key steps both in SEO practices as well in paid advertising. Exploring what competitors are doing and how they are targeting their audience can give you a competitive advantage. In this competitive research, keywords are the key source of information. There are a large number of tools that you can utilize to find out their key search terms. A few of which are Ahrefs, Moz, etc. These tools provide you information such as keywords for which competitors are performing well, long-tail keywords targeted by them for blogs and all, backlinks, etc. With this useful information, you can create competitive strategies to beat them effectively.
Browsing Niche Forums
Browsing niche forums on several popular platforms can help you find certain important topics based on good long-tail keywords which can help you create an intelligent piece of content that people are looking for. If you get successful in creating such a piece of content that is engaging and unique, it can help you rank higher for that content and also attract an audience related to those long-tail search queries.
Using Long-Tail Keywords the Best Way
The success of your online marketing campaign depends upon how efficiently you are making use of those long-tail keywords.
Choosing Suitable Landing Pages
Your long-tail target plan will be successful for your service or product-based landing pages only if you are targeting the most appropriate keywords as per the content of your pages. Your landing pages need to be optimized for those long-tail keywords by adding them to the content of the page, title and descriptions, and more.
Read More: Best Competitor Keyword Analysis Tool
Creating Content Focused around Long-tail Keywords
You may find a large number of long-tail keywords for your niche that answer a large number of questions from visitors around the world. These types of long-tail keywords can be used to produce informative how-tos and blogs can attract a good amount of traffic to your web pages. Moreover, such content pages are quite easier to rank on search results.
Long-tail keywords can prove to be a very fruitful tool for your SEO campaign. So ask your digital marketing company to explore the list of all relevant long-tail keywords for your business and create strategies to achieve the best results using them. The idea of such search queries can provide great competitive benefits to your online business.